About me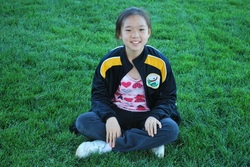 Click to view more pictures
My name is
Elizabeth Guo
. I am a 13-year-old Pittsburgh girl. As a 7th grader at Marshall Middle School in the North Allegheny School District, I love almost everything about school. I am involved in many school activities such as student council, the school newspaper club, chamber orchestra, choral ensemble, etc. I play the piano, violin and viola.
Piano education is a necessity that is looked upon by our family. I started piano lesson ever since the age of 5. After several years of hard work, I received honorable mention in the Level 7 Division in the World Piano Competition at Cincinnati 2012, and was invited to perform at Carnegie Hall.
Martial art is one of my favorite after school activities. Having participated in numerous martial arts competitions in the past 3 years, I won Grand Champion 2 times and received many gold medals from competitions such as the
International Chinese Martial Arts Championship's
(
ICMAC
) and the U.S. Team Trials. In 2012, I successfully completed the
U.S Traditional Team Trials
and became a member, and am qualified to represent the U.S. when competing in the World Traditional Wushu Championships (WTWC) during the years of 2012-2014.
I like church, I am involved with the Junior Youth Fellowship at my church and help out during the VBS sessions too.
I also enjoy delivering services to the community such as:
Performing
martial arts
on Asian Day at Kennywood Park,
First Night Celebration
, Children's Museum, University of Pittsburgh Chinese Nationality Room Committee
Hosting performances at Pittsburgh Chinese School,
the Children's Museum
, Adoption Agency Annual Event @ Pittsburgh
Piano Accompanying at Pittsburgh Chinese School,
Marshall Elementary School
Dancing at the Dragon Boat Festival,
Pittsburgh Chinese School
,
Chinese New Year Festival
, International Cultural Festival at Pitt
Caring Service at the Livingstream Administration @ Pittsburgh event, Vacation Bible School (VBS), Caroling for the nursing home.
---
---
More performances and activities about Elizabeth Guo

---
Piano Performance
Gold Medal World Piano Competition 2013



Piano Lesson

Elizabeth Guo started piano lesson when she was 5 years old. Evey day practice 1 to 2 hours.

2014 Carnegie Hall Performance
Martial Arts Performance
U.S. Junior Team Trials 2012- Staff


After 3 years daily 1.5 hours practice, she entered US Junior
Team Trial Competition. Elizabeth is competing Long Weapon-staff and bear hand
form-nan quan.

U.S. Junior Team Trials 2012- Nan Quan
Community Services
Performance at Pittsburgh Chinese School



Elizabeth Guo participates
community services by perform KungFu shows, accompany violinist, and perform dance, host programs;etc.

Concerto accompanist at Marshall Ele School